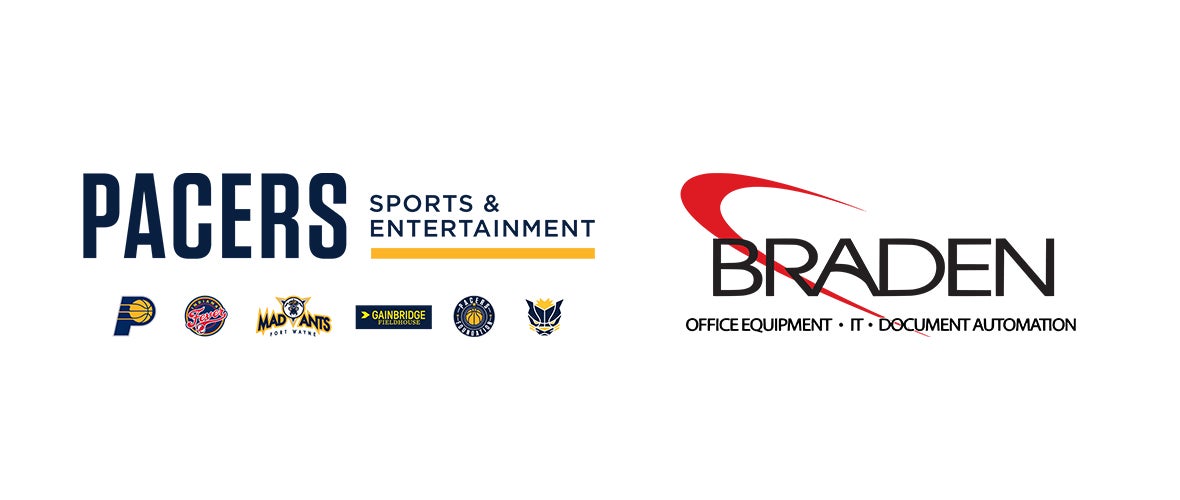 PS&E, Braden Business Systems Team Up for In-Arena and Office Technology Partnership
INDIANAPOLIS - Pacers Sports & Entertainment announced today a partnership with Braden Business Systems to add printing and technology capabilities throughout Gainbridge Fieldhouse and PS&E offices as an official copier & printer partner of the Indiana Pacers.
Gainbridge Fieldhouse is the most widely-used venue in Indiana, and strong partners like Indiana-based Braden Business Systems equip our staff with the tools we need to deliver the exceptional customer experience our guests have come to expect.

Mel Raines, President & COO of Pacers Sports & Entertainment

Braden Business Systems is an industry leading, locally owned provider of high-quality technology solutions, office equipment and IT services for businesses across the country.
We could not be prouder to partner with such a wonderful and well respected professional sports organization like Pacers Sports & Entertainment. With the additional resources from Konica Minolta to enhance PS&E's operations, our leading-edge technology solutions will help the entire organization deliver their mission and aligns perfectly with their vision of the Fieldhouse of the Future. Partnering with PS&E is a dream come true as a Hoosier native who grew up watching and cheering my entire life

Erik Braden, Managing Partner of Braden

Since 1989, Braden Business Systems has been committed to helping every customer achieve business goals by providing the optimum combination of innovative technology, local decision making, and quality service. Braden Business Systems provides state-of-the-art office hardware and software, on-site service, and custom designed workflow solutions for businesses of all sizes.

About Pacers Sports & Entertainment
Pacers Sports & Entertainment is an integrated sports and entertainment company including the Indiana Pacers, Indiana Fever, Fort Wayne Mad Ants, Pacers Gaming, Pacers Foundation, Inc., and operations of Gainbridge Fieldhouse. Its team of inspired and dedicated employees has a shared purpose of winning through a commitment to excellence, serving the local community and entertaining fans and guests.

About Braden
Braden Business Systems , founded in 1989, helps organizations achieve their missions with leading-edge technology solutions. From Office Equipment & Managed IT Services to Document Management & Phone Systems, Braden is a true partner that delivers positive business outcomes for thousands of organizations for over 33+ years. Braden believes in making our world a better place and striving to do right for our clients, communities, team members and families. We treat our fellow team members like family and our clients like partners. We go above and beyond expectations while holding ourselves to the highest standards. We empower firms with award-winning, leading-edge technology solutions that help businesses achieve their full purpose and potential.