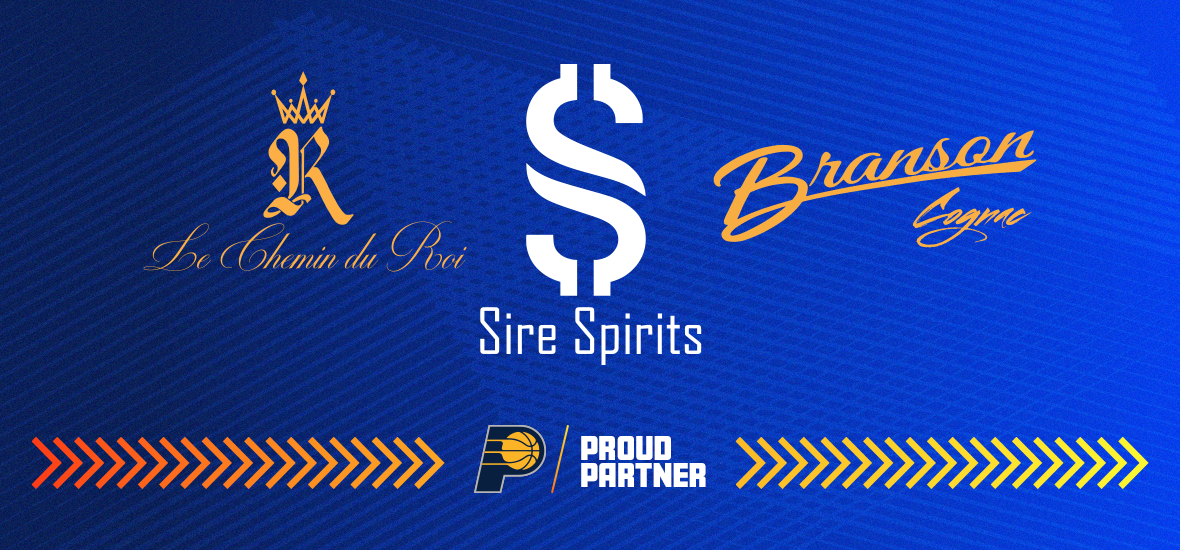 Pacers Announce Partnership with Curtis "50 Cent" Jackson's Sire Spirits
The Indiana Pacers announced today a multi-year partnership with Grammy and recent Emmy Award-winning artist, two-time New York Times best-selling author, executive producer, director, entrepreneur, and philanthropist Curtis "50 Cent" Jackson, his premium wine and spirits company Sire Spirits LLC and his charity, The G-Unity Foundation.
The partnership will highlight Jackson's award-winning Branson Cognac and Le Chemin du Roi Champagne brands during the Pacers season with several elements, including:
Sire Spirits is now an Official Spirits Partner of the Pacers with its award-winning Branson Cognac and Le Chemin du Roi Champagne becoming the official marketing partners exclusive in their respective categories.

The East Sideline Club, the speakeasy situated behind the team benches, will now be known as the Sire Spirits '67 Club. A feature of the club will include a Le Chemin du Roi Decorative champagne wall, product samplings, and specialty cocktail offerings for club guests.

Sire Spirits will also brand a new bar on the south end of the Balcony Level, offering a variety of slushie drinks both with Branson Cognac as well as non-alcoholic options.

On the hospitality side, Jackson will become the Presenting Sponsor of Suite 50, which will include 50 Cent and G-Unity Foundation branding and memorabilia. This suite will be used by the G-Unity Foundation and the Pacers for charitable purposes, used by Jackson for business meetings and events, and it will occasionally be made available to fans for select games, events, and charitable uses.

"This partnership with Curtis "50 Cent" Jackson and Sire Spirits gives us the opportunity to deliver new world-class experiences not only to our premium guests, but to all visitors to Gainbridge Fieldhouse and the Indianapolis community, at large," said Pacers Sports & Entertainment Chief Executive Officer Rick Fuson. "We look forward to working alongside Curtis and The G-Unity Foundation to improve the lives of our city's young people while bringing Pacers fans Sire Spirit's award-winning premium products."
In addition to the in-venue elements, Jackson's charity, G-Unity Foundation, will team up with the Pacers to invest in Indianapolis youth throughout the season. The two organizations will develop mentoring programs, a youth advisory council, and other initiatives aimed at strengthening the community and enhancing opportunities for city youth. Jackson will also assist the Pacers in helping to promote the Pacers' charitable in-game "50/50 Raffle" to increase participation.
"What impressed me most about the Pacers organization was its firm commitment to the community which will allow me to extend my charitable efforts into Indianapolis. I am also excited to have my brands featured at one of the countries newest premiere entertainment venues. I'm excited to be a part of the new development that Gainbridge Fieldhouse will bring to the city of Indianapolis. I look forward to meeting and spending time with the fans."
The partnership announcement comes as Phase 3 of the Fieldhouse of the Future project, the second-largest renovation project in the history of the NBA, comes to a close. The $360 million project includes exciting new amenities and experiences for guests to Gainbridge Fieldhouse, the most widely-used live entertainment venue in Indiana.
###
About Curtis "50 Cent" Jackson
Curtis "50 Cent" Jackson has carved out a thriving television and film career as both a best in class producer and star. In 2005, he founded G-Unit Film & Television, Inc. which has produced a wide variety of content across numerous platforms and sold a myriad of shows to various networks. Among these is the critically-acclaimed #1 show on Starz, "Power," in which he not only co-starred in but also served as executive producer and director. In October 2018, Jackson and Starz/Lionsgate closed an unprecedented deal for Jackson's G-Unit Film & Television, Inc. The partnership, touted as among the most significant deals to date for an Executive Producer in premium television has successfully focused on expansion of the "Power" universe with spin-offs ''Power Book II: Ghost,'' "Power Book III: Raising Kanan," and "Power Book IV: Force." G-Unit Film & Television also produced the ABC hit, "For Life" and recently wrapped production on season two of the hit series, "Black Mafia Family" for Starz and is set to release the "Black Mafia Family" Docuseries. G-Unit is also in development on the scripted series "Queen Nzinga" at Starz. Slated to air in November from G-Unit Film & Television is "Hip Hop Homicides" at WeTV. Jackson is also expanding into the podcast space through his new G-Unit Audio banner with the upcoming release of Surviving El Chapo: The Twins Who Brought Down a Drug Lord in partnership with iHeart Media and Lionsgate Sound. The company is also building out its feature slate, starting with a three picture Horror deal as a collaboration with Horror phenom Eli Roth and 3BlackDot.
About G-Unity Foundation
Founded by Jackson in 2003, the G-Unity Foundation supports programs that foster social and leadership skills in young people living in cities nationwide. Last year, Jackson announced the G-Unity Business Lab with the Houston Independent School District. The after-school entrepreneurship program, which enrolled students from Wheatley, Worthing, and Kashmere high schools, offers the chance to learn core business values and teaches practical skills to develop business ideas with input from area business leaders, corporations and visiting professors, including Jackson. Jackson has also been active in contributing to and participating in various community outreach programs including the NAACP Toy Drive, Houston's Christmas Eve Super Feast, the Houston Symphony, and the Houston Livestock Show and Rodeo. More information on Jackson's G-Unity Foundation and his charitable endeavors can be found here.
About Sire Spirits
Sire Spirits launched in 2017 produces premium wine and spirits under the brand names Le Chemin du Roi Champagne ("The Kings Path") and Branson Cognac both of which have quickly become Award winning brands. Le Chemin du Roi Champagne and Branson Cognac are nationally distributed and featured in top hotels, resorts, casinos, restaurants, nightclubs, bars and now professional sports venues across the United States.