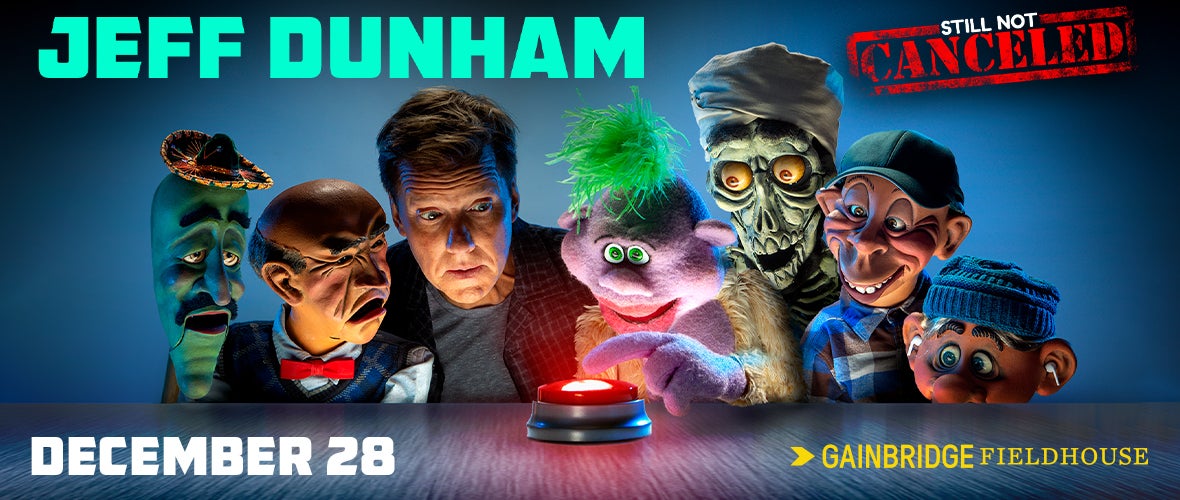 Jeff Dunham Tips Off His 2022-23 "Still Not Canceled Tour" in Indianapolis
COMEDY SUPERSTAR JEFF DUNHAM ANNOUNCES THE LAUNCH OF HIS
2022-2023 FOURTY- FOUR CITY, NORTH AMERICAN TOUR "STILL NOT CANCELED" THE TOUR
TIPS OFF IN INDIANAPOLIS AT THE
GAINBRIDGE FIELDHOUSE ON DECEMBER 28th
Watch for Dunham's New Comedy Central Stand-Up Special "ME THE PEOPLE"
Premiering Friday, November 25th, 2022.
INDIANAPOLIS – After more than a decade of non-stop blockbuster touring across the U.S. and the world, Comedy Superstar Jeff Dunham and his delightfully irreverent proteges, Peanut, Walter, José Jalapeño, Bubba J. and Achmed along with the newest cast member, millennial nerd URL, will set out on their brand-new forty-four city North American tour "Still Not Canceled".
The new tour will tip off at Gainbridge Fieldhouse in Indianapolis and will make its way across country bringing with it fun and boisterous laughter along the way. Tickets on sale now at jeffdunham.com. Dunham recently completed the taping of his new one-hour Comedy Central special "ME THE PEOPLE" at the legendary Warner Theatre, in Washington D.C. The new special is set to premiere on Friday, November 25th.
For more information Visit: https://www.jeffdunham.com
Dec
28
//

2022
@ 7:00 PM