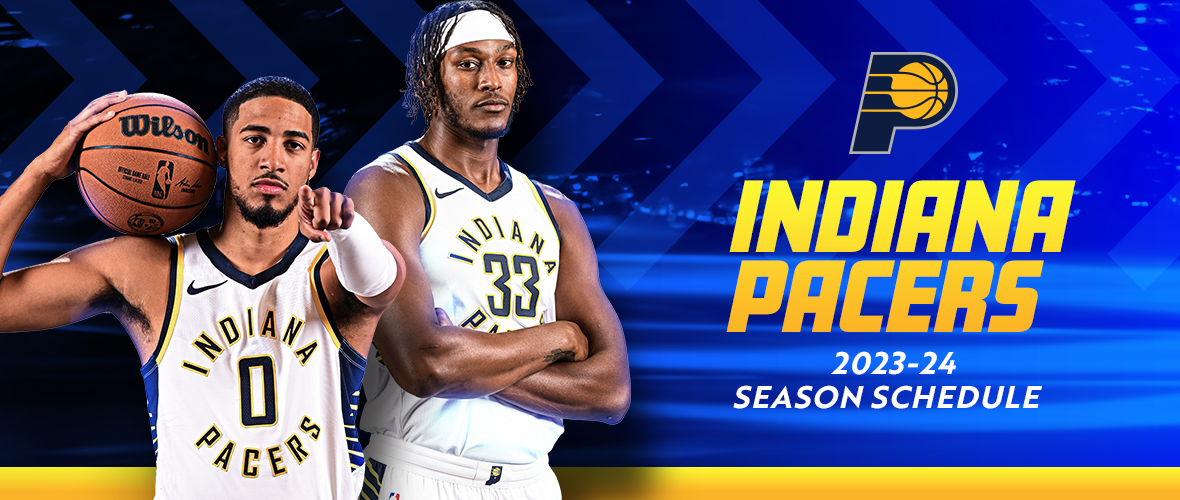 Indiana Pacers Announce 2023-24 Regular Season Schedule
INDIANA PACERS ANNOUNCE 2023-24 REGULAR SEASON SCHEDULE
PACERS SINGLE-GAME TICKETS GO ON SALE WEDNESDAY, SEPTEMBER 27.
FULL SCHEDULE CAN BE FOUND HERE.
INDIANAPOLIS – The Indiana Pacers will tip-off the 2023-24 regular season on Wednesday, October 25 at Gainbridge Fieldhouse against the Washington Wizards at 7:00pm ET, with seven of the team's first nine games of the season at home.
Pacers tickets for games at Gainbridge Fieldhouse will be on sale on Wednesday, September 27 at 2:00pm ET. Fans can register for pre-sale access to single game tickets by signing up for Pacers Insider emails. Additional information on season tickets, group sales, suite rentals, and more can be found here.
IN-SEASON TOURNAMENT: As previously announced, the Indiana Pacers four In-Season Tournament games will take place on Friday, November 3 vs. the Cleveland Cavaliers (7:00pm ET), Tuesday, November 14 at Philadelphia (7:00pm ET), Tuesday, November 21 at Atlanta (7:30pm ET), and Friday, November 24 vs. Detroit (8:00pm ET).
Teams that advance through the In-Season Tournament group stage will play Knockout Round games on December 4 and December 5 (the winners will then play Semifinal and Final round games on December 7 and December 9 in Las Vegas, NV), while teams that do not advance will play two additional regular-season games on December 6 and December 8. These games will be announced at a later date.
HOMESTANDS: The Pacers will have four homestands at Gainbridge Fieldhouse this season at consist of at least four games. The first such homestand tips off with an In-Season Tournament game on Friday, November 3 against the Cleveland Cavaliers (7:00pm ET), and continues Saturday, November 4 vs. Charlotte (7:00pm ET), Monday, November 6 vs. San Antonio (7:00pm ET), Wednesday, November 8 vs. Utah (7:00pm ET), and Saturday, November 9 vs. Milwaukee (7:00pm ET).
ADDITIONAL HIGHLIGHTS: The Pacers will host the defending NBA Champion Denver Nuggets on Tuesday, January 23 (7:00pm ET), while the defending Eastern Conference champion Miami Heat are in town on Sunday, April 7 (5:00pm ET). The Pacers traditional post-Thanksgiving game will fall on Friday, November 24 against the Detroit Pistons (8:00pm ET). Additionally, the Pacers will host the Los Angeles Clippers on Monday, December 18 (7:00pm ET), the Golden State Warriors on Thursday, February 8 (7:00pm ET), and the Los Angeles Lakers on Friday, March 29 (7:00pm ET).
Like last season, there will be no NBA games played on Tuesday, November 7 in recognition of Election Day.
PRE-SEASON SCHEDULE: The Pacers also confirmed their 2023 pre-season schedule, which starts with two road games, the first on Sunday, October 8 at Memphis (8:00pm ET) and then on Monday, October 10 at Houston (8:00pm ET). The Pacers will conclude their pre-season schedule with two games at Gainbridge Fieldhouse, the first on Monday, October 16 vs. Atlanta (7:00pm ET) and then on Friday, October 20 against Cleveland (7:00pm ET).
NATIONAL TELEVISION: The Pacers are currently scheduled for six nationally televised games this season, highlighted by an appearance on TNT at Boston on Tuesday, January 30 (7:30pm ET). Additionally, the Pacers games vs. Milwaukee on November 9, at Miami on November 30, at Houston on December 26, vs. Toronto on February 26, and at the Los Angeles Lakers on March 24 are all slated to appear on NBATV. The Pacers full television and radio schedule will be announced at a later date.
NBA ALL-STAR 2024: The Pacers will embark on a three-game road trip beginning February 10 (at New York, 7:30pm ET) as the team and league prepares to host the 73rd NBA All-Star Game on Sunday, February 18 at Gainbridge Fieldhouse. For more information and to keep up with the latest NBA All-Star 2024 announcements, visit Pacers.com/AllStar2024 and follow @NBAAllStar across social media. Visit NBAExperiences.com for more details on exclusive NBA All-Star 2024 experiences customized for fans around the world.