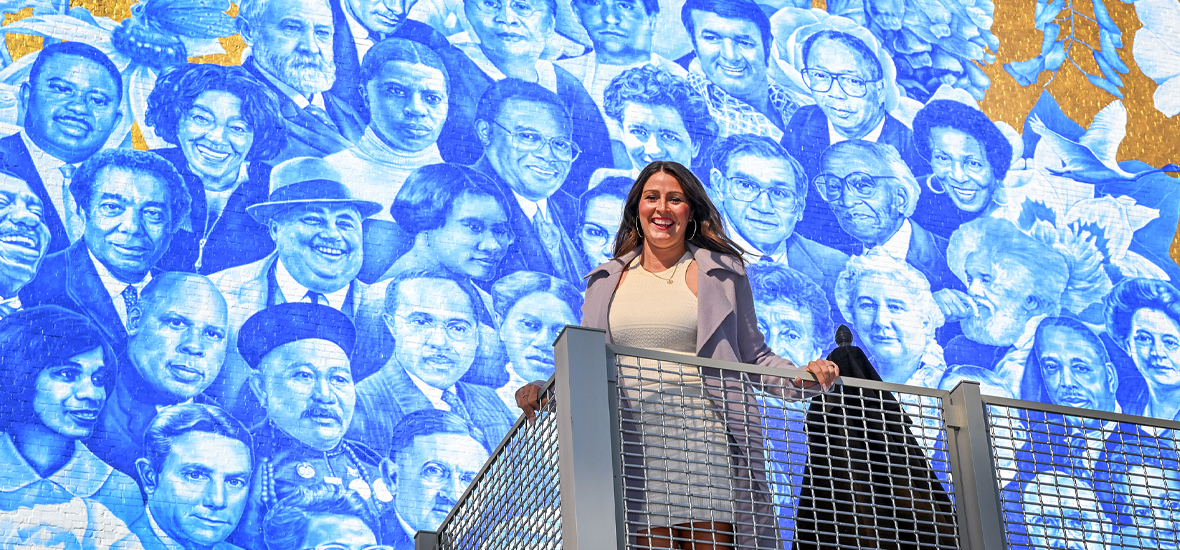 Final Mural in the City of Indianapolis Bicentennial Legends Series at Bicentennial Unity Plaza is Formally Unveiled
INDIANAPOLIS – The Indy Arts Council, the Marion County Capital Improvement Board, and Pacers Sports & Entertainment today formally unveiled the final art project in the City of Indianapolis Bicentennial Legends Series, a program that celebrates Hoosiers whose contributions have made Indianapolis vibrant. The mural, a significant public art addition to Bicentennial Unity Plaza, features portraits of 43 Indianapolis legends and adorns the east wall of the Steak n Shake Building.
This is the fourth and final artwork in the City of Indianapolis Bicentennial Legends Series, and it celebrates people who played significantly roles in shaping Indianapolis. Included are some of our city's most prominent civil rights leaders, community activists, politicians, sports figures, arts & culture luminaries, educators, philanthropists, and more.
A 40-person committee spent six months reviewing and selecting the legends for the mural, considering nearly 200 leaders who helped shape Indianapolis between 1820 and 2020. No individuals still living were considered, but rather the list included only those who have passed away. Other criteria included a strong connection to the city, accomplishments that benefited the common good, memorable personal stories, and an inspirational legacy in Indianapolis and beyond.
After reviewing applications from more than 150 artists from around the U.S., the committee reviewed final concepts from three artists and selected Chicago-based artist Anna Murphy spent three months painting the 48-foot by 60-foot mural, which overlooks Bicentennial Unity Plaza. She was assisted by Indianapolis-based painters Johnathon Arce and Phyllicia Carr.
In addition to the 43 portraits, her design includes the carnation, the tulip tree, the zinnia, and the peony, each of which has at some point served as Indiana's official State flower. Other plants native to the state are depicted, as are the state or national flowers of those legends who were born outside of Indiana. Finally, the Indiana State bird, the Northern Cardinal, and a number of other birds, insects, and animals are also depicted, and Murphy's use of blue and gold is an homage to the Indiana state flag.
In addition to the mural, the Arts Council and Indiana Humanities also commissioned an Indianapolis poet to reflect on these legends' life and legacy. The chosen poem was written by Park Tudor high school graduate and 2022 National Youth Poet Laureate Alyssa Gaines, who is currently attending Harvard University.
To learn more about the mural and the legends depicted in it, click here.
About Anna Murphy
Chicago-based Murphy, who was born in England, balances her time between creating fine art paintings for galleries and murals and art installations for outdoor landscapes. Before moving to Chicago in 2012 Anna graduated with a B.F.A in painting from the University of Louisville and was awarded the Winthrop Allen Memorial Scholarship for most outstanding graduating senior in 2D studios. Murphy was also awarded the Kentucky Foundation for Women Artist Enrichment Grant.
"As I was thinking about these amazing legends and their legacies, I was excited to create a design that celebrates the uniqueness of their gifts and stories, while also inspiring future generations to blossom into their own modern-day legends," Murphy said.
About the Bicentennial Legends Murals
The Indianapolis Bicentennial Commission primarily funds the Bicentennial Legends series. Additional funding for the Bicentennial Unity Plaza mural was provided by the Capital Improvement Board of Managers of Marion County.
The Bicentennial Legends murals depict people associated with who embody the City of Indianapolis' Bicentennial Commission's guiding principles: history, civic pride, innovation, and legacy. A mural of international cycling champion Marshall "Major" Taylor was unveiled in 2021 on the Barnes & Thornburg building, a mural of entrepreneur Madam C.J. Walker in 2022 at Pathways to Peace Park, and a mural of Black Arts Movement poet Etheridge Knight at the legendary Chatterbox jazz club.
The Legends murals are owned and maintained by the Indy Arts Council.