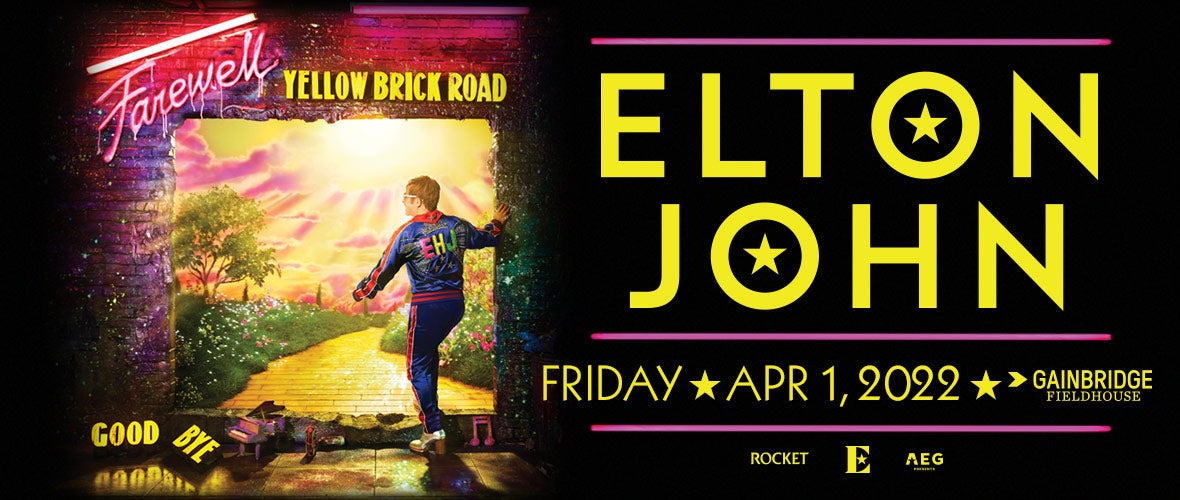 Elton John Returns to Stage for Long-Awaited Farewell Yellow Brick Road Tour
FRIDAY, APRIL 1, 2022
GAINBRIDGE FIELDHOUSE | INDIANAPOLIS, IN

INDIANAPOLIS - Wednesday night marked the highly anticipated return of Elton John's global Farewell Yellow Brick Road Tour. Fittingly resuming in one of America's most famed music metropolises, New Orleans, Elton played to a roaring sold out crowd.
The show kicked off with his iconic hit, "Bennie and the Jets" and followed by back-to-back classics such as "Tiny Dancer," "Rocket Man," "I'm Still Standing," "Crocodile Rock" and more. Additionally, Elton performed his latest chart-topping hit "Cold Heart (PNAU REMIX)" from his 2021 studio album The Lockdown Sessions, which is currently peaking at #7 on Billboard's Hot 100, #1 on Billboard's Hot Dance/Electronic Songs chart, as well as charting as the #1 single in the UK upon release.

Elton John will play 40+ arena dates in North America through April 2022 before embarking to Europe to kick off his stadium run and remaining arena dates. This summer, Elton will take his final bow in North America, playing in major stadiums in cities such as Vancouver, Toronto, East Rutherford, Chicago and more. The North American stadium run will kick off at Citizens Bank Park in Philadelphia on July 15, 2022 before concluding with back-to-back performances at Dodger Stadium in Los Angeles on November 19 and 20, 2022 --- commemorating his iconic performance at the historic venue in October 1975. 2023 kicks off with two shows in Auckland New Zealand on January 27 and 28, followed by soon-to-be-announced dates in Australia as well as arena dates across the continent of Europe before the epic 4-year tour formally concludes later that year. Please visit www.EltonJohn.com/Tours for more details on the previously announced dates.

Recently winning the 2021 iHeartRadio "Golden Icon" Award, the tour has also received top accolades including the 2020 iHeartRadio Music Award for "Tour Of The Year," 2020 Pollstar "Major Tour of the Year" and the 2019 Billboard Music Award for the "Top Rock Tour." The Elton John Farewell Yellow Brick Road Tour kicked off to a sold-out crowd on September 8, 2018 and has since received rave reviews around the world. The critically acclaimed show takes the audience on a magical journey through his incredible 50-year career with never-before-seen-photos and videos, all set to the tune of some of Elton's most beloved songs from his legendary catalog including, "Bennie and the Jets," "Rocket Man," "Tiny Dancer," and "Philadelphia Freedom."

FAREWELL YELLOW BRICK ROAD TOUR – SET LIST
1. Bennie And The Jets
2. Philadelphia Freedom
3. Border Song
4. Tiny Dancer
5. Have Mercy On The Criminal
6. Rocket Man
7. Take Me To The Pilot
8. Someone Saved My Life Tonight
9. Levon
10. Candle In The Wind (solo)
11. Funeral For A Friend/Love Lies Bleeding
12. Burn Down The Mission
13. Sad Songs (Say So Much)
14. Don't Let The Sun Go Down On Me
15. The Bitch Is Back
16. I'm Still Standing
17. Crocodile Rock
18. Saturday's Alright For Fighting
19. Cold Heart (solo)
20. Your Song
21. Goodbye Yellow Brick Road

ABOUT ELTON JOHN:
Elton's career achievements to date are unsurpassed in their breadth and longevity. Elton is one of the top-selling solo artists of all time. In the UK and US charts alone he has 1 diamond, 32 platinum or multi-platinum, and 21 gold albums as well as over 70 Top 40 hits. He has sold more than 300 million records worldwide.

He holds the record for the biggest-selling single of all time, "Candle in the Wind 1997", which sold over 33 million copies. Released in 2017 'Diamonds' the Ultimate Greatest Hits album, became Elton's 40th UK Top 40 album and has spent over 200 consecutive weeks in the top 75 of the UK album charts, over 110 of these in the top 20. This release celebrated 50 years of his songwriting partnership with Bernie Taupin. August 2018 saw Elton named as the most successful male solo artist in Billboard Hot 100 chart history, having logged 67 entries, including nine No. 1s and 27 Top 10s. 'The Lockdown Sessions', an album of collaborations recorded during the COVID-19 Pandemic, was released in October 2021 and went straight to number 1 in the UK album Charts, becoming Elton's 8th UK number 1 album in the process. It's lead single "Cold Heart (PNAU Remix) with Dua Lipa" became a bona fide global hit, reaching number 1 in the UK and Australian singles charts. Its success meant that Elton became the first ever solo artist to score a UK Top 10 hit single in 6 consecutive decades. In America, he holds the record for longest span between Billboard top 40 hits at 50 years.

Elton announced the 'Farewell Yellow Brick Road' tour at New York's Gotham Hall in January 2018. Encompassing 5 continents, and over 350 dates, this 5-year-long tour started in September 2018 and marks his retirement from touring after more than 50 years on the road. In 2019 it was named Billboard's Top Rock Tour and Pollstar's Major Tour Of The Year. To date, Elton has delivered more than 4,000 performances in more than 80 countries since launching his first tour in 1970. 2019 also saw the release of 'Rocketman' and global bestselling autobiography, 'ME'. An epic fantasy musical motion picture of Elton's life, 'Rocketman' has been a commercial and critical hit, taking close to $200m at the box office. It has won an Oscar, two Golden Globe Awards and a Critics' Choice Award and garnered BAFTA nominations. Its soundtrack was also nominated for a GRAMMY Award.

Among the many awards and honours bestowed upon him are six GRAMMYs, including a GRAMMY Legend award, a Tony and two Oscars, a Best British Male Artist BRIT Award, induction into the Rock and Roll Hall of Fame and the Songwriters Hall of Fame, the Kennedy Center Honor, Legend of Live Award, 13 Ivor Novello Awards between 1973 and 2001 and a knighthood from HM Queen Elizabeth II for "services to music and charitable services".

In 1992, Elton established the Elton John AIDS Foundation, which today is one of the leading non-profit HIV/AIDS organizations and has raised over $515 million to date in the global fight against HIV/AIDS. In June 2019 President Emmanuel Macron presented Elton the Légion d'honneur, France's highest award, for his lifetime contribution to the arts and the fight against HIV/AIDS. Elton was awarded the Companion of Honour in the 2021 New Year Honours list. The highest acknowledgement in the list, Elton became one of only 64 people to hold the honour. September 2019 saw The Royal Mail issue a set of 12 stamps as a tribute to Elton being one of the most popular and enduring music artists of all time. Elton was only the second individual music artist to be featured in a dedicated stamp issue. In July 2020 the Royal Mint released an Elton John commemorative coin, the second in their music legends series to celebrate 'one of the most successful and enduring artists of all time'. Always a tireless champion of new artists, Elton has been a leading industry voice in lobbying the government for young artists visa-free touring rights in Europe post Brexit.

ABOUT AEG PRESENTS:
AEG Presents is one of the world's largest live music companies. The company is dedicated to all aspects of live contemporary music performances, including producing and promoting global concert tours, regional music events, and world-renowned festivals. AEG Presents operates in North America, Europe, and Asia with 15 regional offices. Touring artists include Taylor Swift, Paul McCartney, The Rolling Stones, Justin Bieber, Katy Perry, Elton John, Celine Dion, Kenny Chesney, and more. The festival roster includes the iconic Coachella Valley Music & Arts Festival, New Orleans Jazz & Heritage Festival, Stagecoach, Desert Trip, Firefly, Hangout, and British Summertime at Hyde Park, totaling more than 40. The company owns, manages, or exclusively promotes in more than 75 clubs and theaters worldwide, including Agora Theatre, Cleveland; Forest Hills Stadium and Webster Hall, New York; Shrine Auditorium and The Fonda, Los Angeles and Eventim Apollo, London. AEG presents more than 12,000 shows annually and conducts business under such globally renowned brands as AEG Presents, Goldenvoice, The Bowery Presents, Concerts West, Messina Touring Group, Marshall Arts LTD, and Madison House Presents. For more information, visit www.aegpresents.com.
Apr
01
//

2022
@ 8:00 PM