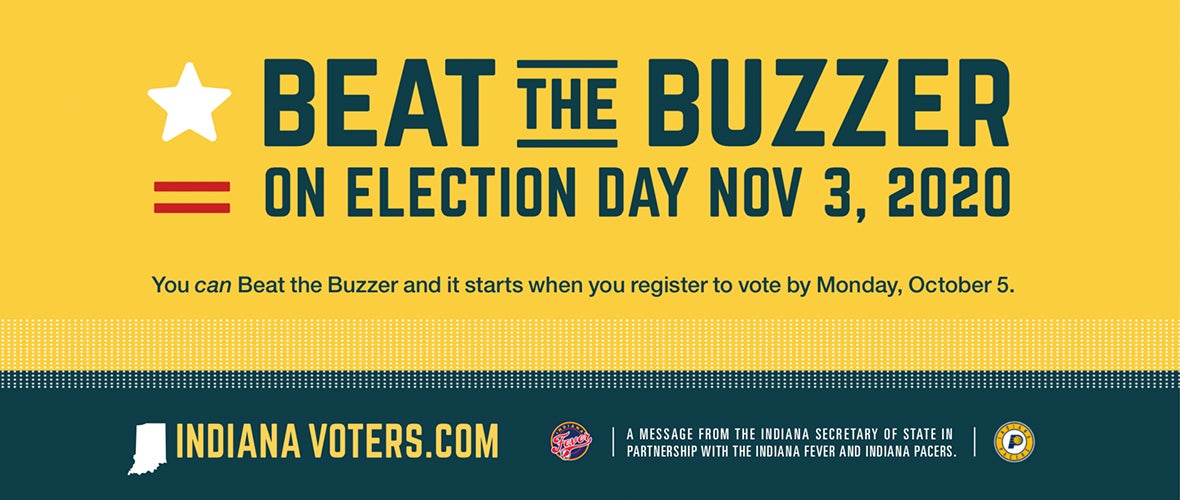 Pacers Sports & Entertainment, Indiana Secretary of State Partner on Beat the Buzzer Voting Initiative
INDIANAPOLIS, IN – Pacers Sports & Entertainment and Indiana Secretary of State Connie Lawson today announced the launch of a two-month statewide campaign aimed at raising awareness and increasing Hoosier turnout for November's General election. The Beat the Buzzer initiative tips off on Monday, September 7, and will focus on informing Hoosiers about key dates and deadlines leading up to the election and encouraging them to exercise their important civic duty.
"At PS&E, we take our responsibility to help increase voter access and awareness seriously and we will continue to champion this critical cause well beyond November's elections," said Rick Fuson, PS&E President & COO. "Our Secretary of State and her terrific staff share this commitment, and we appreciate the opportunity to partner on this important initiative."
"Increasing turnout and participation in our electoral process has been a top priority for me," said Secretary Lawson. "We are always looking for ways to reach a broader audience and raise awareness about the importance of voter participation. I am thankful to the entire PS&E team for their commitment to helping us meet this goal and I look forward to seeing the success of our partnership."
Indiana's Secretary of State is the state's Chief Elections Officer, responsible for ensuring the integrity and security of Indiana elections. Through Beat the Buzzer, Pacers and Fever broadcasters will produce public service announcements for dissemination through media outlets and local community organizations across the state. Importantly, the partners will also produce spots in Spanish and Burmese to reach Indiana's fastest-growing, though often younger, communities, as well.
PS&E continues to focus on voter engagement as a key pillar of its social justice efforts, with details available https://www.gainbridgefieldhouse.com/connect/vote. Last week, the Marion County Election Board announced that Gainbridge Fieldhouse will serve as an election day vote center, and PS&E has also partnered with Rally the Vote to promote registration and turnout in 2020.
For more information on how to register to vote, voting deadlines, and additional resources for voters, please visit www.indianavoters.com. The deadline to register to vote is October 5, 2020.