The Harlem Globetrotters
Spread Game Tour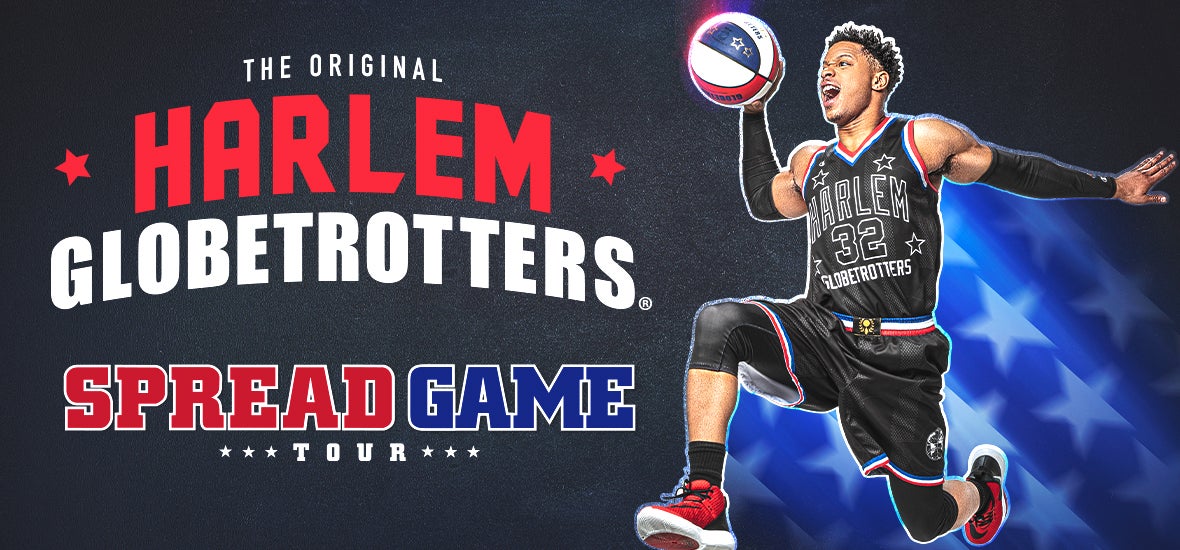 Jan
16
//

2022
The Harlem Globetrotters
Spread Game Tour
Date

Jan

16

//

2022

Doors Open

One hour before showtime

On Sale

On Sale Now
The Harlem Globetrotters
Spread Game Tour
Event Details
TWO SHOWS! Sunday, January 16, 2022 (MLK Weekend) 12:30 p.m. & 5:30 p.m.
The World-Famous Harlem Globetrotters are bringing their newly reimagined Spread Game tour to over 200 cities in 2021-2022 starting on December 26th, 2021.
The Spread Game Tour is a basketball event like no other. Ankle-breaking moves, jaw-dropping swag, and rim-rattling dunks are only some of the thrill you can expect from this fully modernized show. Part streetball from the players who defined it, part interactive family entertainment, the new tour will show off the best of the Globetrotters in a dazzling exhibition of talent and game.
The Spread Game Tour introduces new premium fan experiences with unprecedented access and interaction, including celebrity court passes, meet and greets with players, and the #SQUADZONE, where fans have the opportunity to feel like part of the show.
WHO: For over 95 years, the Harlem Globetrotters organization has been committed to spreading joy through their artful athleticism and unparalleled basketball skill. The Globetrotters have always been global ambassadors of goodwill. The reimagined team is even more committed to bringing their voice to social justice conversations while inviting communities all over the U.S. to come together and recognize the power of our commonalities and celebrate our differences. The Globetrotters' mission, to spread game and bring family entertainment to the world, continues to drive them today.
TICKET INFORMATION: Harlem Globetrotters fans can get the best seats before tickets go on sale to the general public during pre-sale by signing up to become a Preferred Customer at HarlemGlobetrotters.com. Preferred customers receive exclusive access to the pre-sale offer code.
To order tickets online: www.harlemglobetrotters.com
ABOUT THE HARLEM GLOBETROTTERS: The originators of basketball style, influencers on today's game, and skilled athletes of the highest order, the world-famous Harlem Globetrotters have showcased their iconic talents in 124 countries and territories on six continents since their founding in 1926. Proud inductees into the Naismith Memorial Basketball Hall of Fame, their mission to spread game and bring entertainment to the world continues to drive them today. The Globetrotters are innovators of the game who popularized the jump shot, slam dunk, and invented the half-court hook shot. For nearly a century, the Globetrotters have exhibited Black excellence on and off the court, entertaining, inspiring, and advancing the racial progress of today. The Harlem Globetrotters International, Inc. is a subsidiary of Herschend Enterprises, the largest family-owned themed entertainment company in the U.S. For more information about the Harlem Globetrotters, visit the Globetrotters' official website:  www.harlemglobetrotters.com  and follow them on Twitter, Instagram, Facebook, and YouTube.
QUESTIONS: For more information on The #SpreadGame Tour or interview requests, please contact Deidre Gaskin at deidre.gaskin@harlemglobetrotters.com
What to Know Before You Go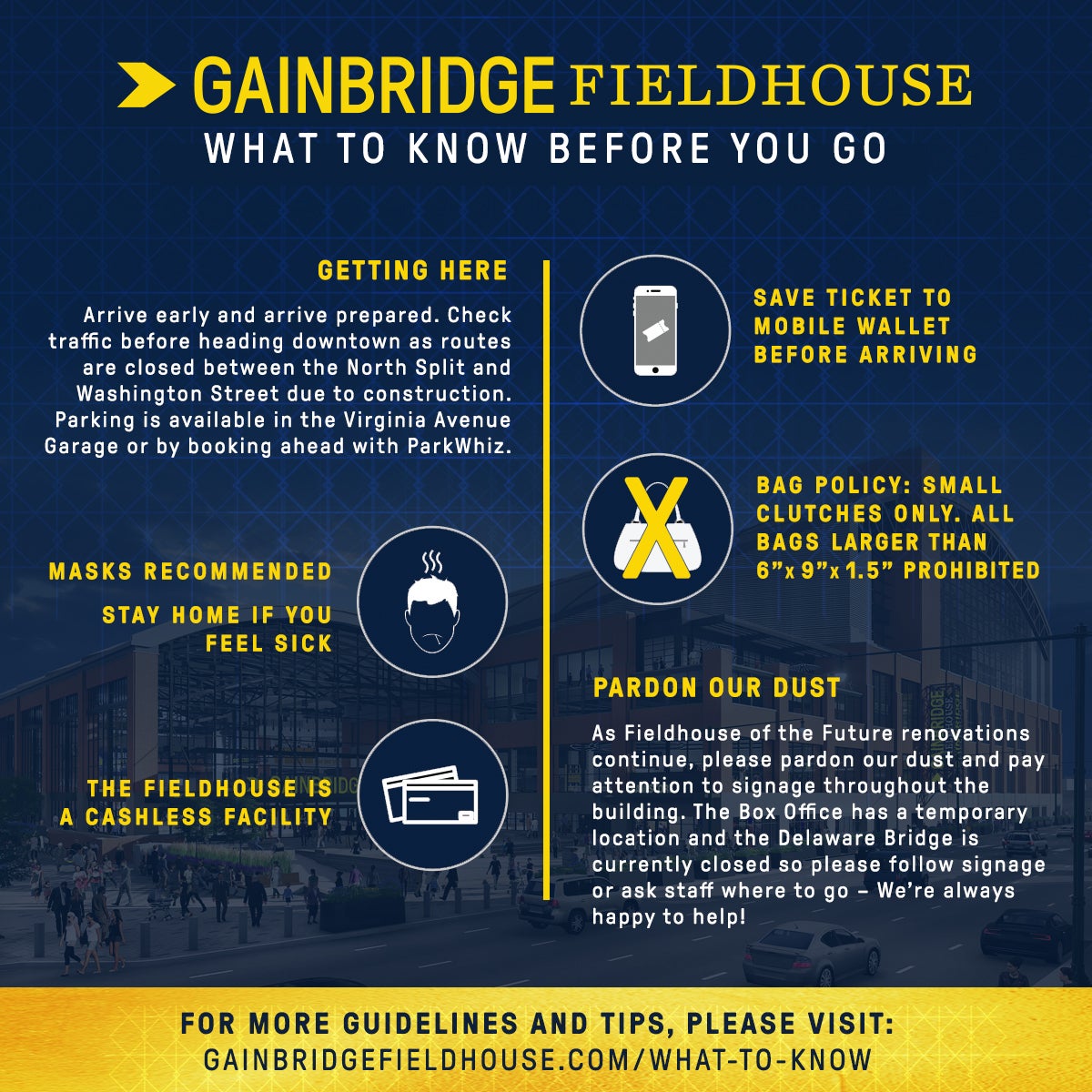 Bags, backpacks, large purses are prohibited. Small clutch-style purses are allowed and may not be larger than 6"x9"x1.5"

Management discretion is allowed for diaper bags and medical bags

No Professional Cameras or Detachable Lenses. No IPads, Tablets, Selfie sticks, GoPro's
No signs larger than 11"x17" are permitted at this event.
Health & Safety Guidelines
Gainbridge Fieldhouse follows Marion County Health Department (MCHD) and Centers for Disease Control & Prevention (CDC) requirements and guidelines from the promoter for each event. Proof of vaccination or testing is not required for general ticket holders at this event. The MCHD and the CDC recommend individuals wear masks indoors, regardless of vaccination status. Any further updates will be communicated to ticket holders and shared on our social outlets.
Baby Bags/Bottles/Formula: Baby bags, plastic bottles, and formula are permitted into the building. Should the bag become an obstruction due to its size, guests may be asked to check the bag at our Entry Pavilion Guest Relations desk.
Boomers Buddies: This free service is for the benefit of both children and guests with disabilities. Boomer's Buddies is a service that provides an identification bracelet to write parent's/responsible party's seat location and cell phone number, in case the child or guest gets separated from their party. To register, please visit Guest Relations on any level of Gainbridge Fieldhouse.
Changing Tables: Changing Tables are located in the handicap accessible stalls of the women's and men's restrooms on all levels. Tables are also available in the gender-neutral restrooms near suites 20 and 28 on the KeyBank Suite Level.
Gender-Neutral Restrooms: For your convenience, gender-neutral restrooms are available on all levels of the building.
KeyBank Suite Level: Near Suites 1, 10, 19, 20, and 28
Main Concourse: Section 2
Krieg DeVault Club Level: Section 108/109
Balcony Level: Sections 204 and 216
Nursing: Our nursing mothers' room is open for all events and is located on the Main Concourse at Section 9 near the Plant Fitness Lounge.
Strollers: Collapsible stroller units may be stored beneath your assigned seat(s). For assistance with other units, please contact Guest Relations or the Usher in your seating area.
Lost Child: A procedure is in place to assist you in finding your lost child. A lost guest should be escorted to the nearest Usher, Security Guard, Guest Relations representative or other staff member. If a guest is lost or separated from their group, please notify the nearest employee for further assistance. Guests are encouraged to use the Boomer's Buddies identification bracelets. Please visit the nearest Guest Relations desk for assistance. See Boomer's Buddies.
There are multiple parking options throughout the downtown area that are within walking distance of Gainbridge Fieldhouse. The Virginia Avenue Garage on the northeast corner of the building connects to the Fieldhouse from the third floor of the garage. The entrance to the Virginia Avenue Garage is located off of Maryland Street. Denison manages a number of parking facilities in the downtown areas and can share information that will make your experience an enjoyable one. For specific information related to bus parking near the Fieldhouse, contact Denison Parking at (317) 916-1760. You may also purchase individual parking passes in advance at select locations via ParkWhiz.
Collapsible stroller units may be stored beneath your assigned seat(s). For assistance with other units, please contact Guest Relations or the Usher in your seating area.
Wheelchair/Guests with Disability Escorts
For individuals who have limited mobility or accessibility needs, an escort is available to transport/assist guests from our Entry Pavilion to your seats. Requests may be placed at any entrance by notifying a member of our staff. A member of our staff will return with the wheelchair to escort you to the exit at the end of the event. If a wheelchair escort is required during the event, you may notify a member of our staff and we will be happy to assist. Please note that wheelchairs are limited and subject to availability at that time. Wheelchairs are not available for continuous use throughout the event.
Any bag larger than 6"x9"x1.5" will not be allowed. Discretion is allowed for purses, and diaper bags that, while having the appearance of backpacks, generally are sized differently, and have a different purpose. These are allowed on a case-by-case basis and subject to management approval. All guests entering the Fieldhouse are subject to security screening, visual inspection, and bag inspection conducted by Gainbridge Fieldhouse personnel.