Banda MS
MS Tour Positivo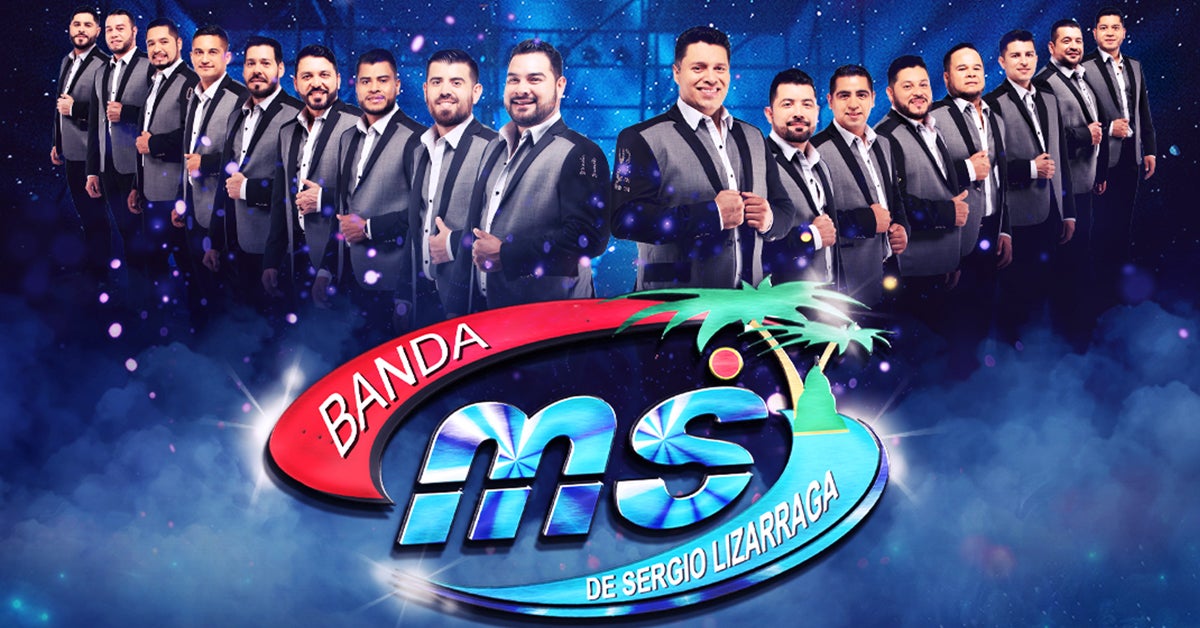 Nov
06
//

2021
Banda MS
MS Tour Positivo
Date

Nov

06

//

2021

Event Starts

8:00PM

Doors Open

6:30PM

On Sale

On Sale Now
Banda MS
MS Tour Positivo
Event Details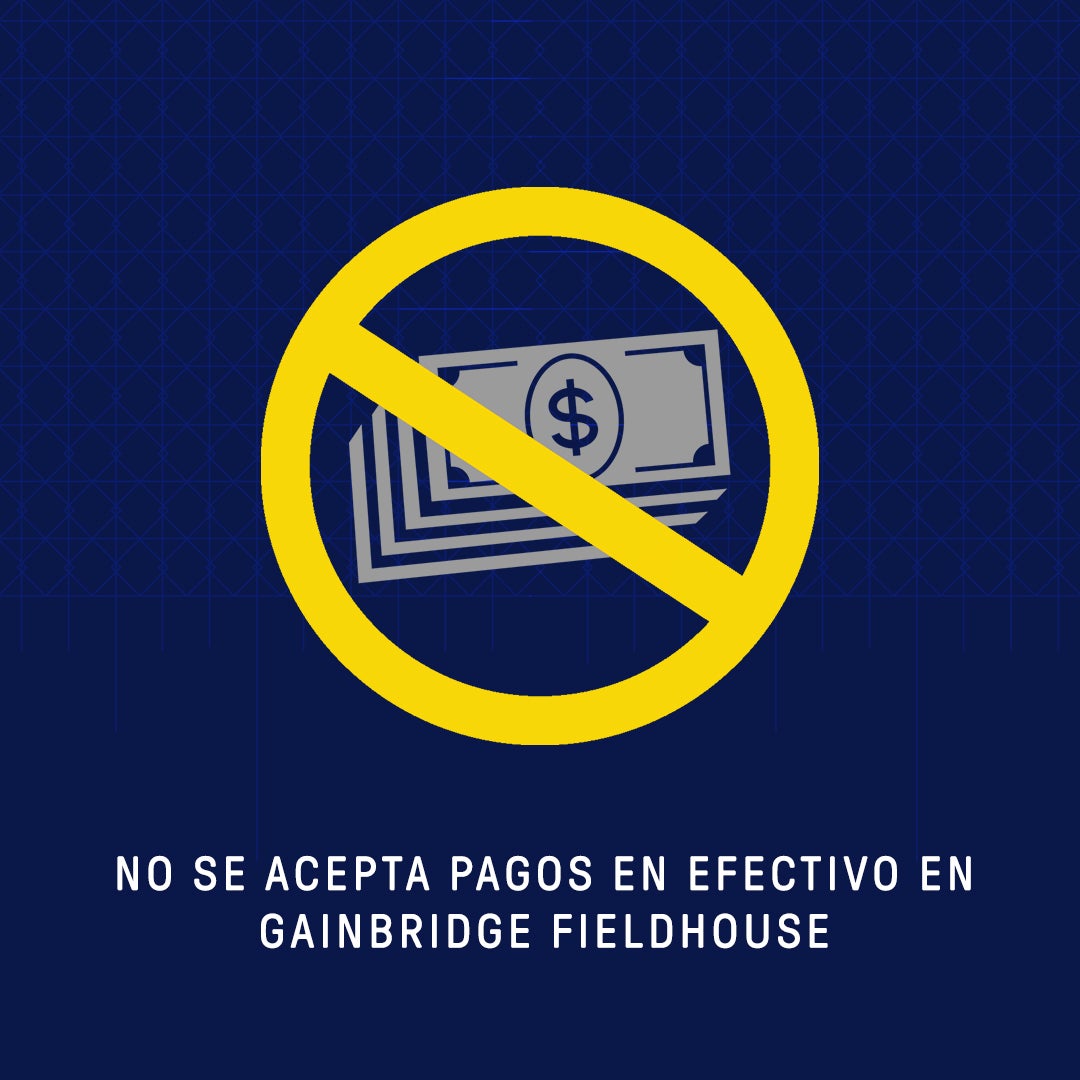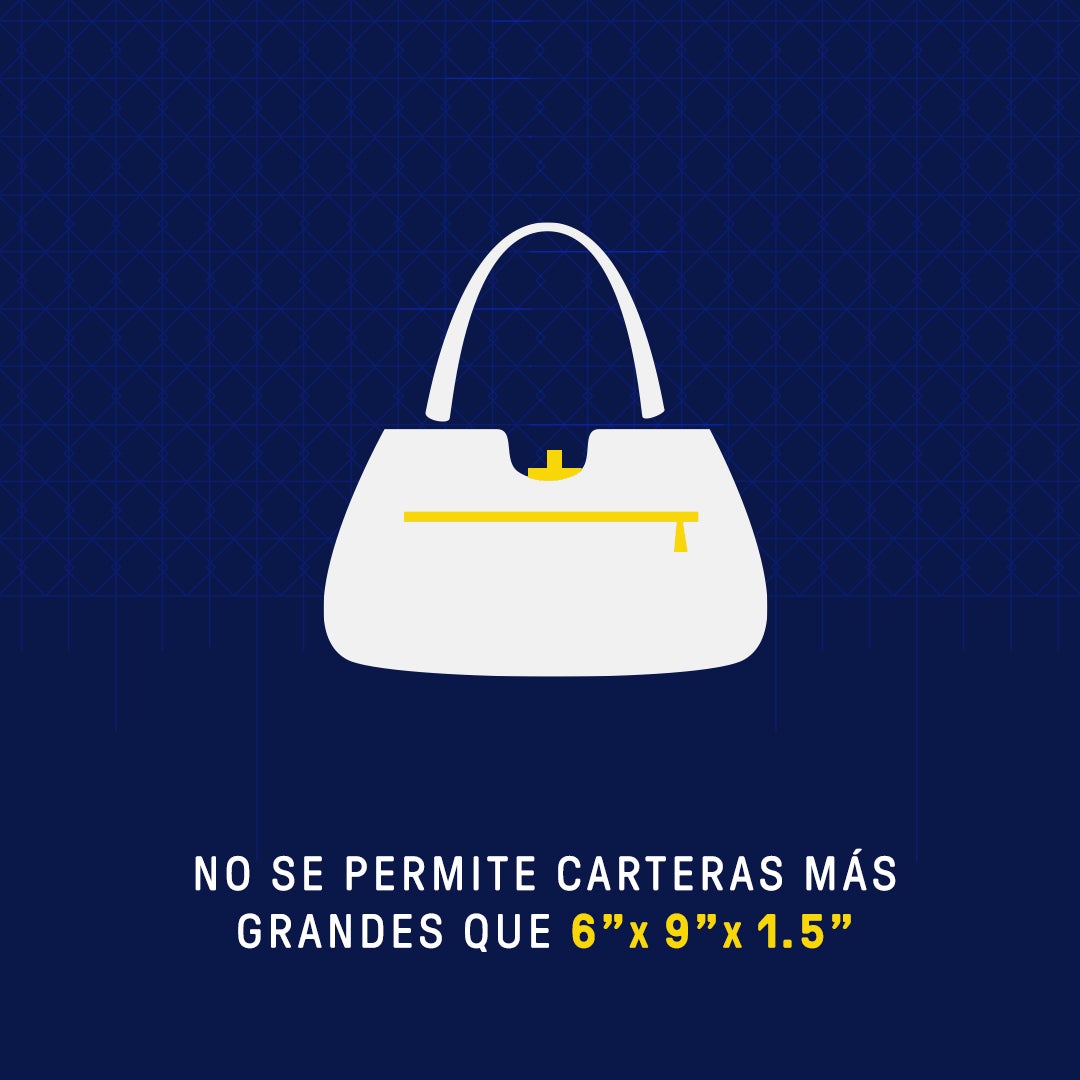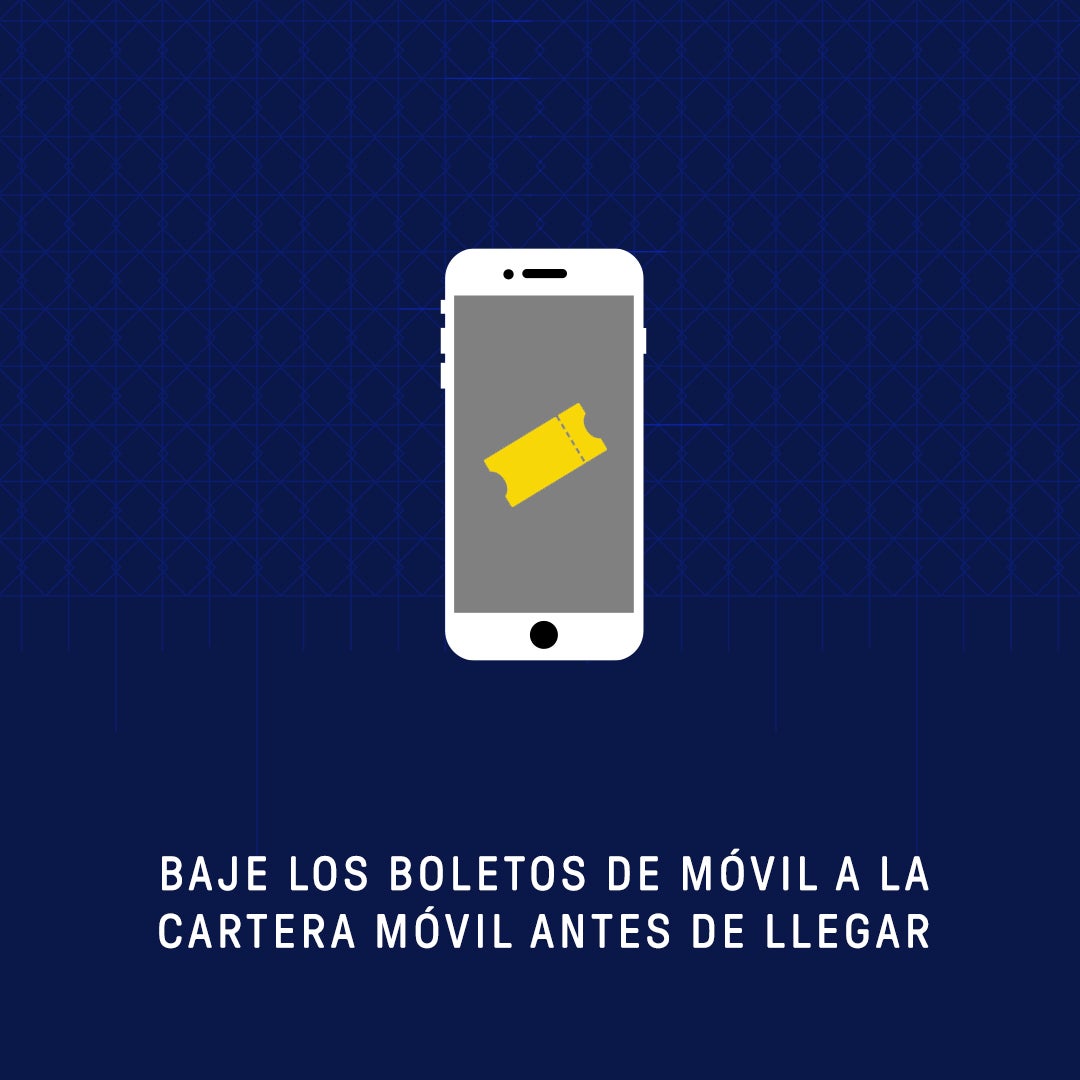 BANDA MS ANNOUNCES INDIANAPOLIS SHOW AT GAINBRIDGE FIELDHOUSE ON SATURDAY, NOVEMBER 6, 2021
Tickets on Sale Friday, April 9, at 10:00 a.m.
Los Angeles, Ca (April 5, 2021) - BANDA MS DE SERGIO LIZÁRRAGA today announced they will be playing Gainbridge Fieldhouse on Saturday, November 6, as part of their new tour, MS Tour Positivo.
Tickets are available beginning Friday (4/9) at 10a.m. at Ticketmaster.com or in person at the Gainbridge Fieldhouse box office Mondays through Fridays, from noon to 5:00 p.m.
BANDA MS begins their busy schedule of performances with stops at a number of iconic venues like Gainbridge Fieldhouse, such as Madison Square Garden and the Amway Center. They are committed to bringing their fans the spectacular and interactive shows for which they are known. MS Tour Positivo will include not only banda sinaloense music, but also acoustic segments along with other segments of norteño music.
Below are the dates and the venues in which BANDA MS will present their show. The group will be making history and confirming yet again why they are the most important and popular band in the Regional Mexican music.
---
ABOUT BANDA MS:
In the month of September the band will be releasing its new album titled "CON TODAS LAS FUERZAS", from which the first single-cut emerges "MEJOR ME ALEJO".
BANDA MS DE SERGIO LIZÁRRAGA, is listed by the specialized press as the most influential group of its kind. The album "LA MEJOR VERSIÓN DE MÍ", was launched to the music market in April of the year 2017 and remained in the first position on the sales charts. This album includes the smash singles: "ES TUYO MI AMOR", "LAS COSAS NO SE HACEN ASÍ", "EL COLOR DE TUS OJOS" and "TU POSTURA".
BANDA MS is the only one that has managed to be positioned 15 consecutive songs in the top first position based on radio airplay audience impressions as measured by radio monitoring: "EL MECHÓN", "MI RAZÓN DE SER", "HERMOSA EXPERIENCIA", "NO ME PIDAS PERDÓN", "HÁBLAME DE TI", "A LO MEJOR", "PIENSÁLO", "SÓLO CON VERTE", "ME VAS A EXTRAÑAR", "TENGO QUE COLGAR", "ES TUYO MO AMOR", "LAS COSAS NO SE HACEN ASÍ", "EL COLOR DE TUS OJOS", TU POSTURA", "MEJOR ME ALEJO" y "POR SIEMPRE MI AMOR" , "POR MI NO TE DETENGAS", "NO ELEGÍ CONOCERTE" y "CERRANDO CICLOS".
This year the group won two Billboard Latin Music Awards: Top Latin Album of the year and Mexican regional artist of the year.
Spotify recognized Banda MS the most listened Mexican artist and in 2020 the group had 872 millions of reproductions in this digital platform.
ABOUT CMN ENTERTAINMENT:
CMN is the authority in Latin entertainment. As a multicultural creative agency, our common goal is to create and build unique experiences between fans, artists and brands.
Henry Cárdenas, entrepreneur, philanthropist and founder of CMN, is a pioneer in bringing Latin entertainment and live sportevents to the United States. The Chicago-based company with offices in Miami and Houston operates through professionals constantly creating cutting-edge marketing experiences and producing the best events in the country.
To learn more about CMN and its roster of artists, visit www.cmnevents.com or follow us at @cmnevents.
SOBRE LIZOS MUSIC:
LIZOS MUSIC, es una compañía que en poco tiempo ha logrado dar de que hablar en el mundo discográfico actual. La oficina central esta ubicada en Mazatlán, Sinaloa, México y cuenta con una oficina alterna en la ciudad de San Diego, Ca.
El elenco de la empresa, lo encabeza la BANDA MS DE SERGIO LIZÁRRAGA, una agrupación que esta haciendo historia y que se ha mantenido como una de las mejores en su género.
LIZOS MUSIC, es un sello discográfico, dedicado esencialmente a la promoción y difusión de artistas del género regional mexicano. Aunado a ello, también se especializa en el manejo y la representación artística.
El catálogo esta conformado con artistas de características especificas, cada uno de ellos con un toque distintivo. Es un elenco pequeño, pero todos los talentos que forman parte de ésta compañía, han sido seleccionados bajo un objetivo común: autenticidad, profesionalismo y creatividad musical. Esta es la filosofía y la visión de LIZOS MUSIC.
---
Facebook: Banda MS
Instagram: bandamsoficial
Twitter: @banda_ms
Canal Lizos Music: youtube.com/c/LizosMusic
Para mayor Información:
Public Relations
Sara Eva Pérez
Gainbridge Fieldhouse
información Importante
Llega temprano y estes listo
Favor de estar al tanto de cambios de tráfico y construcción en las carreteras interestatales y en la ciudad. Se puede aparcar en el estacionamiento en la avenida Virginia y la calle Maryland.
Máscaras recomendadas
Si estas enfermo, por favor no entrar
No se acepta pagos en efectivo en Gainbridge Fieldhouse.
Baje los boletos de móvil a la cartera móvil antes de llegar.
No se permite carteras más grandes que 6"x9"x1.5"
Las renovaciones en Gainbridge Fieldhouse siguen. Por favor, disculpa el polvo y estes al tanto de los carteles informativos. Si tienes alguna pregunta, no dejes de pedirle ayuda a algún miembro de nuestro equipo.
Regulaciones Importantes:
No se acepta pagos en efectivo en Gainbridge Fieldhouse.

Puede cambiar efectivo por una tarjeta en las máquinas de efectivo a tarjeta ubicadas en el pabellón de entrada junto al mostrador de Servicios para huéspedes, Sección 3 y Sección 19.

Baje los boletos de móvil a la cartera móvil antes de llegar.

No se permite carteras más grandes que 6"x9"x1.5"

No se permiten las cámaras profesionales, ipads, GoPros, o bastón selfie/bastón de fotos.

No se permite carteles más grandes que 11" x 17". Los carteles no pueden bloquearle la vista a otros patrones.

No se permite armas de cualquier tipo.
Salud y Seguridad
Si estas enfermo o te sientes enfermo, por favor no entrar a Gainbridge Fieldhouse.
Los miembros de nuestro equipo usan mascaras para todos nuestros eventos.

Es recomendado por la CDC usar mascaras en los eventos públicos.

Gainbridge Fieldhouse fue reconocido con el IWBI Health & Safety Rating for Facilities Operations and Management, el reconocimiento más alto para los estándares de seguridad y salud.
What to Know Before You Go
¡Les damos las bienvenidas a Banda MS en Gainbridge Fieldhouse para el MS Tour Positivo! Quédense al tanto de esta información importante sobre este evento ⬇️
🚪: 6:30p - Abren las puertas
🎶: 8:00p - El concierto comienza
🎟: Información sobre boletos - https://bit.ly/3d35ruZ
🚘: Información sobre estacionamiento - https://bit.ly/2Epc3Cy
👜: No se permite carteras más grandes que 6"x9"x1.5"
💳: No se acepta pagos en efectivo en Gainbridge Fieldhouse.
📲: Baje los boletos de móvil a la cartera móvil antes de llegar.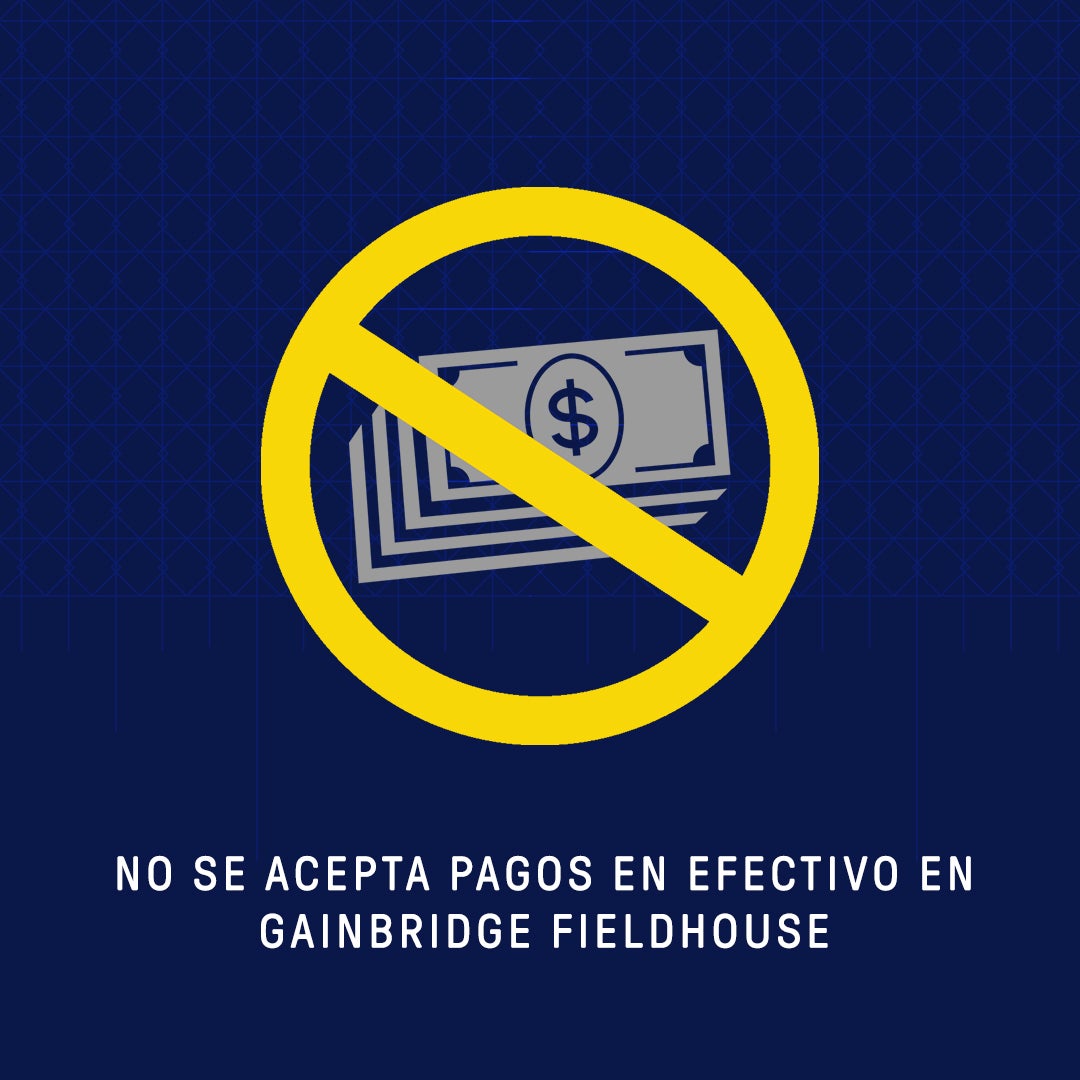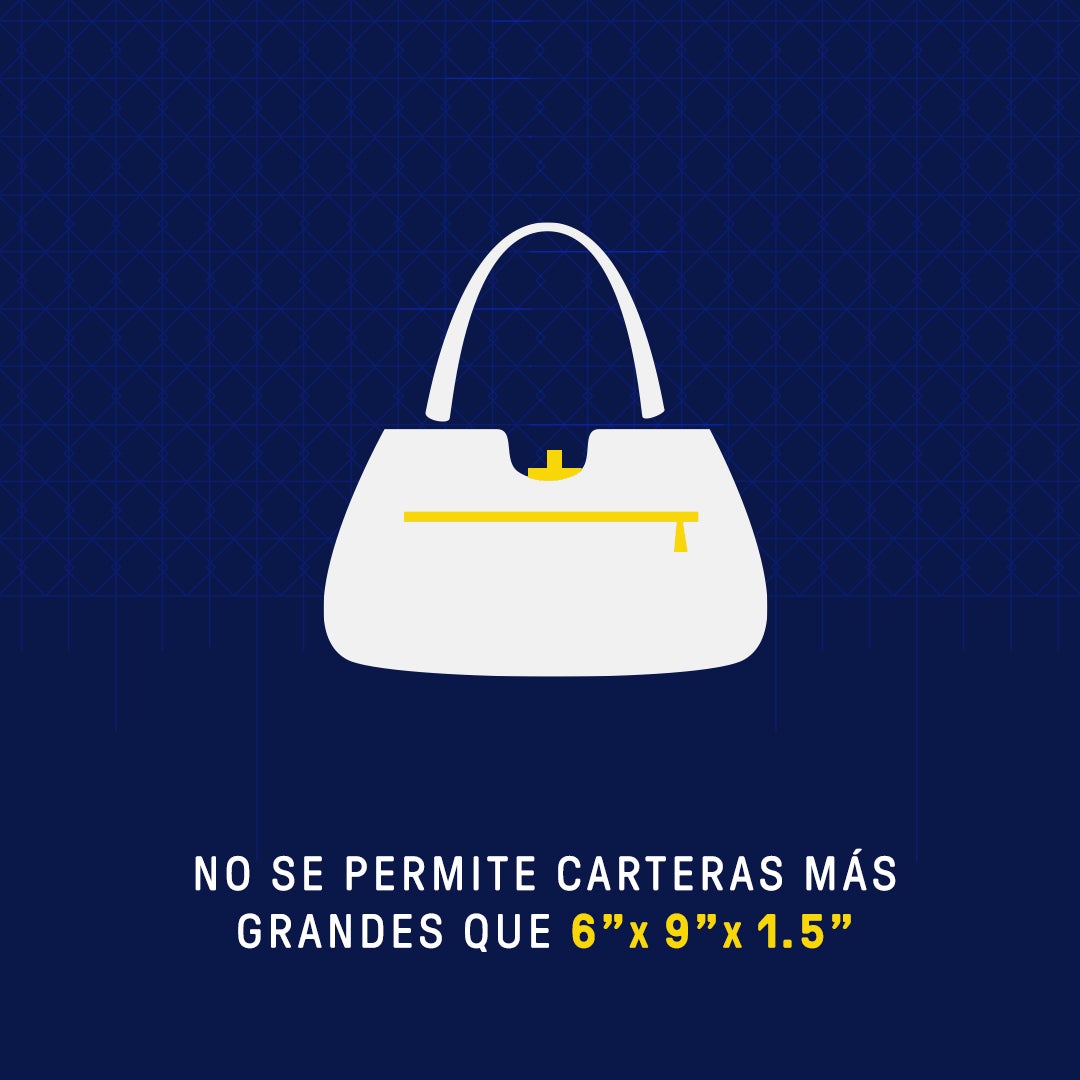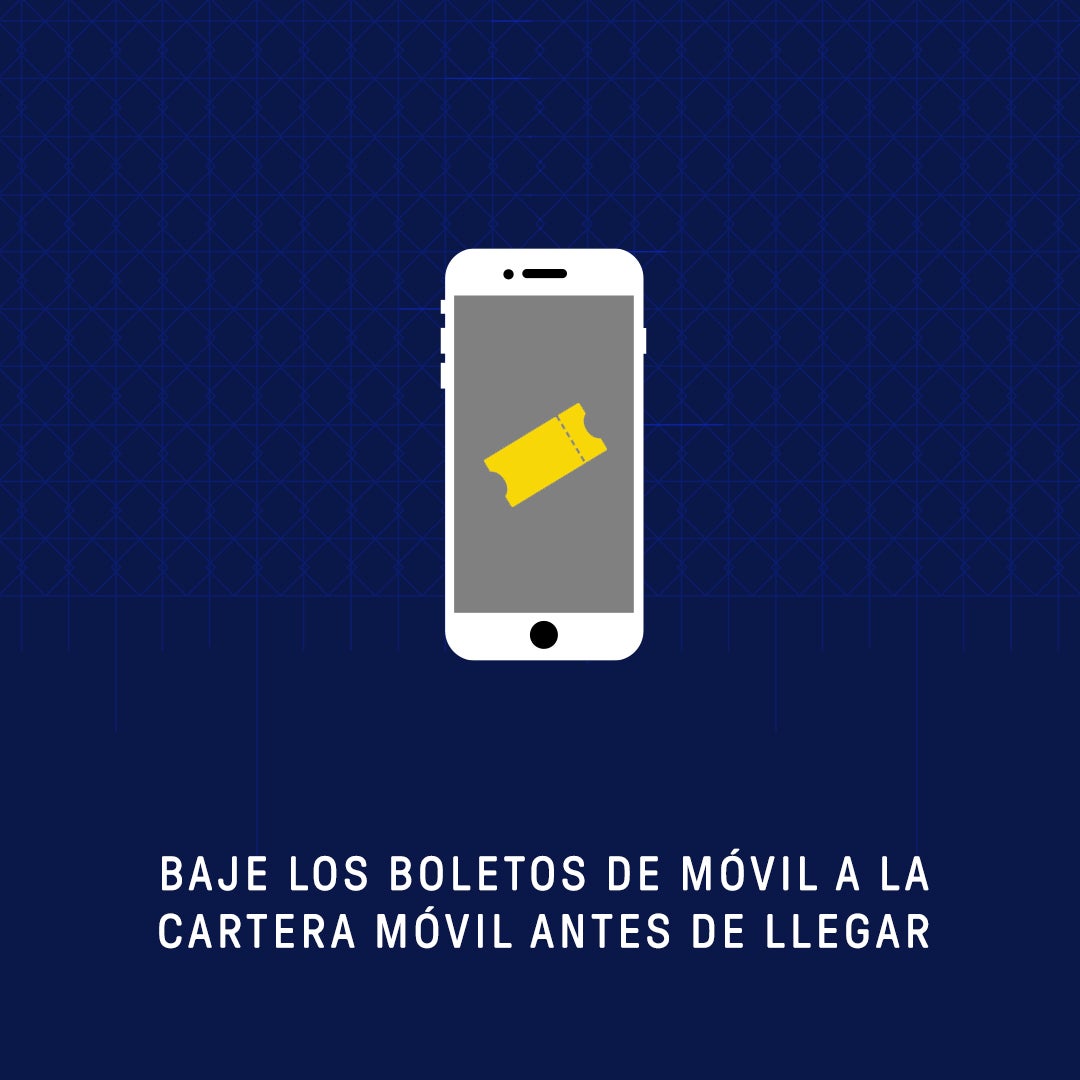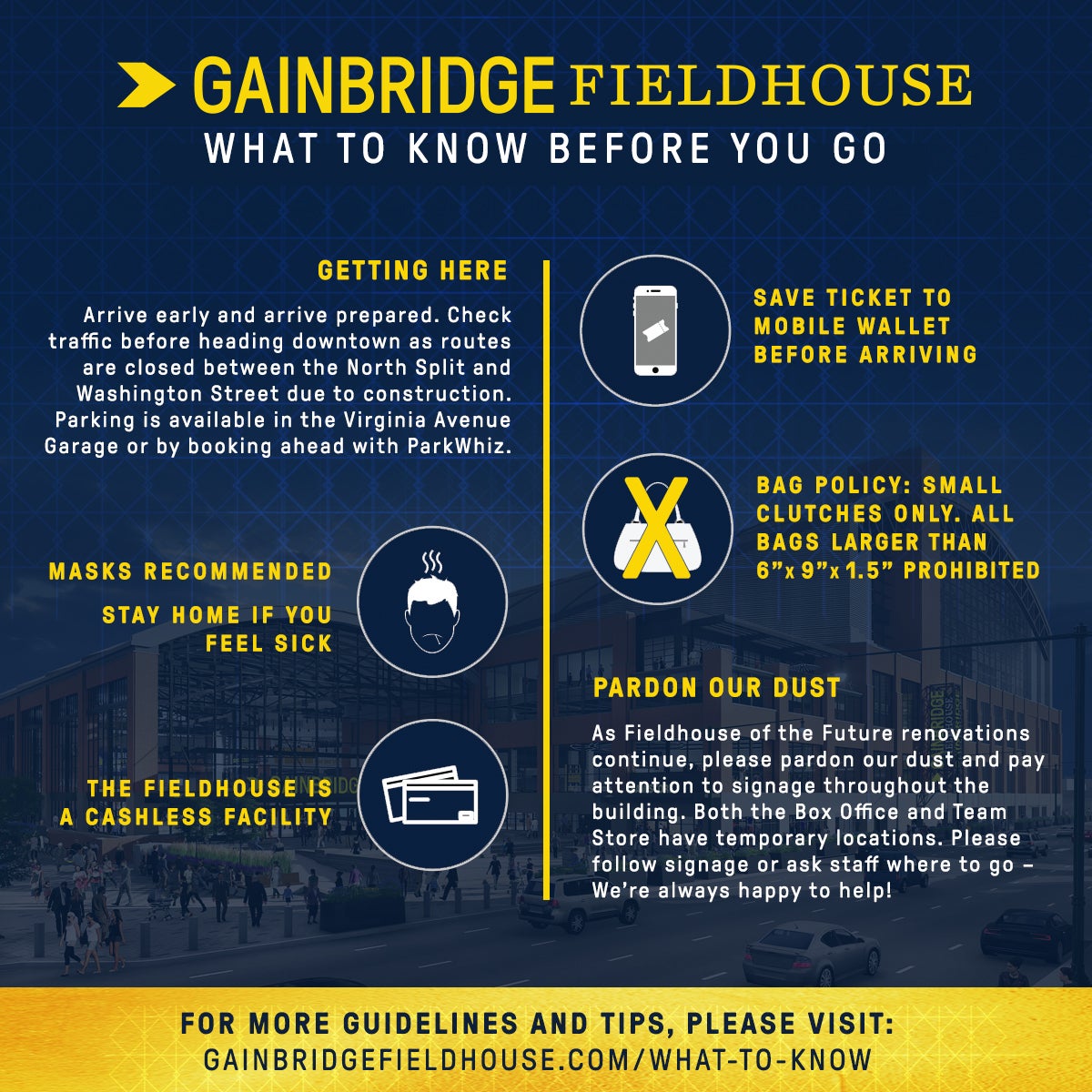 Health & Safety Guidelines
Gainbridge Fieldhouse follows Marion County Health Department (MCHD) and Centers for Disease Control & Prevention (CDC) requirements and guidelines from the promoter for each event. Proof of vaccination or testing is not required for general ticket holders at this event. The MCHD and the CDC recommend individuals wear masks indoors, regardless of vaccination status.
Bag Policy & Prohibited Items
Bag Policy: No bags larger than 6"x9"x1.5"
We ask all guests to arrive early and travel light.
For your safety guests are subject to visual inspection (including the use of metal detecting magnetometers) of person, parcels, bags, containers and/or clothing capable of concealing prohibited items. Guests may refuse inspections; however, management reserves the right to refuse entry.
For safety reasons, prohibited items include but are not limited to:
Alcohol, drugs, illegal substances, or any paraphernalia associated with drug use
Audio/Video recorders, professional cameras, tripods
Backpacks
Bags larger than 6"x9"x1.5"
Beach balls or any projectiles or missiles
Cans, bottles, coolers, or other similar containers
Clothing that displays obscene/offensive language and/or pictures (as determined by Gainbridge Fieldhouse management)
Drones
Fireworks
Hard-sided bags
Laser pens/pointers of any type
Military or Tactical style clothing/gear (Active Duty Military uniforms are allowed)
Noisemakers such as air horns
Objects that obstruct another guest's view of the playing/performance surface
Outside food or drinks
Pepper spray/Mace
Poles or sticks
Signs, flags, banners larger 11″X17″ or affixed to any pole
Skateboards/roller blades
Tripods, mono pods, or selfie sticks
Weapons of any type, including chains, knives, firearms, and spiked jewelry
Any other item deemed unacceptable by event/building management
If an item is revealed during a search, guests may dispose of the item or return the item to a safe storage location away from the Fieldhouse.