2022 NCAA Tournament First/Second Rounds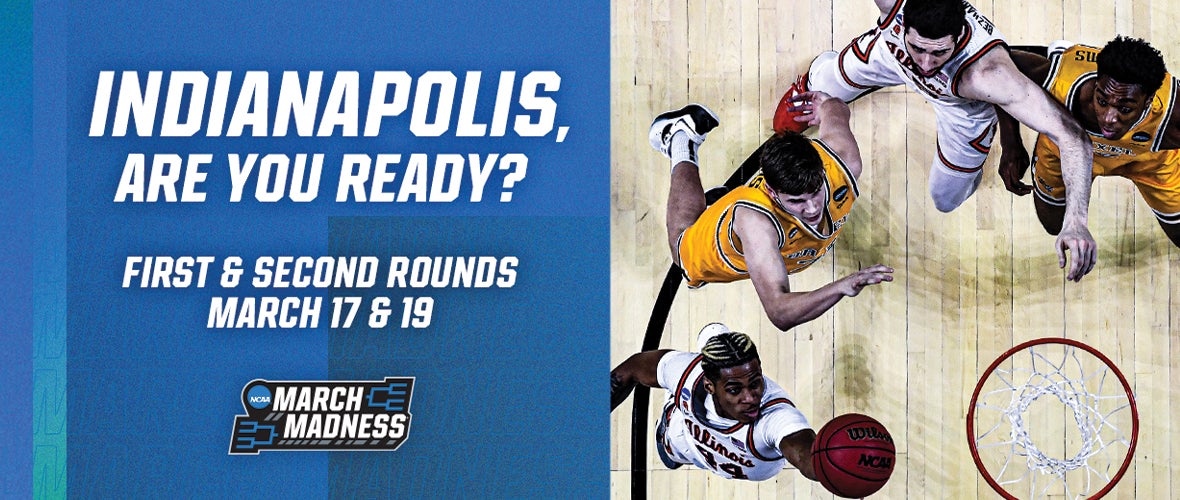 Mar
17
-
19
//

2022
2022 NCAA Tournament First/Second Rounds
2022 NCAA Tournament First/Second Rounds
Event Details
The Road to the Final Four® stops in Indianapolis March 17 & 19, 2022 at Gainbridge Fieldhouse when IUPUI and Horizon League host the First and Second Rounds of the NCAA ® March Madness ® Tournament!
---
Saturday, March 19 Game Schedule:
3:45 p.m. ET – Doors open

5:15 p.m. ET – Michigan vs. Tennessee

7:45 p.m. ET – Saint Peter's vs. Murray St.
---
Thursday, March 17 Game Schedule:
Session 1
10:45 a.m. ET - Doors open
12:15 p.m. ET - Michigan vs. Colorado St
2:45 p.m. ET - Longwood vs. Tennessee
Session 2
5:45 p.m. ET - Doors open
7:10 p.m. ET - Saint Peter's vs. Kentucky
9:40 p.m. ET - San Francisco vs. Murray St.
Saturday tip times will be announced after Thursday's final game.
---
Wednesday, March 26 Open Practice Times
10:00 AM - Doors open
11:00-11:40 AM – Michigan
11:45 AM-12:25 PM – Longwood
12:30-1:10 PM – Colorado State
1:15-1:55 PM – Tennessee
3:25-4:05 PM – Kentucky
4:10-4:50 PM – Murray State
4:55-5:35 PM – Saint Peter's
5:40-6:20 PM – San Francisco
Tickets will be available for NCAA subscribers October 26-28, 2021 – sign up here to hear about it first! Tickets go on sale to the general public Saturday, November 6, 2021.
Can't wait? Secure your access NOW with an official NCAA Fan Experience ticket and hospitality package from On Location, the Official Ticket & Hospitality Provider of the NCAA.
NCAA, March Madness and The Road to the Final Four are trademarks owned by the National Collegiate Athletic Association. All other licenses or trademarks are property of their respective holders.
What to Know Before You Go
Bags, backpacks, large purses are prohibited. Small clutch-style purses are allowed and may not be larger than 6"x9"x1.5"

Management discretion is allowed for diaper bags and medical bags

No Professional Cameras or Detachable Lenses. No IPads, Tablets, Selfie sticks, GoPro's
No signs larger than 11"x17" are permitted at this event.
Click here for more info.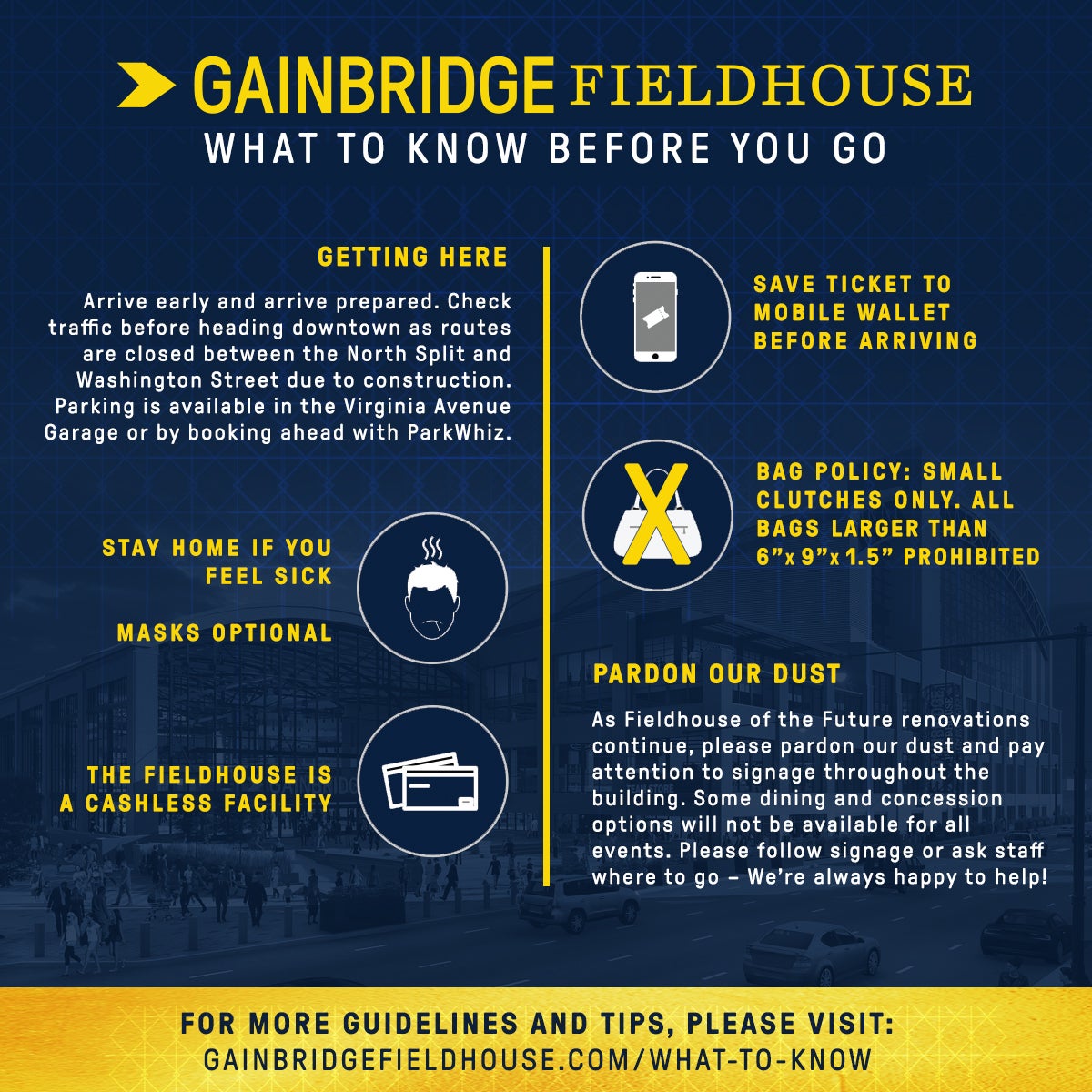 We ask all guests to arrive early and travel light.
For your safety guests are subject to visual inspection (including the use of metal detecting magnetometers) of person, parcels, bags, containers and/or clothing capable of concealing prohibited items. Guests may refuse inspections; however, management reserves the right to refuse entry.
For safety reasons, prohibited items include but are not limited to:
Alcohol, drugs, illegal substances, or any paraphernalia associated with drug use
Audio/Video recorders, professional cameras, tripods
Backpacks
Bags larger than 6"x9"x1.5"
Beach balls or any projectiles or missiles
Cans, bottles, coolers, or other similar containers
Clothing that displays obscene/offensive language and/or pictures (as determined by Gainbridge Fieldhouse management)
Drones
Fireworks
Hard-sided bags
Laser pens/pointers of any type
Military or Tactical style clothing/gear (Active Duty Military uniforms are allowed)
Noisemakers such as air horns
Objects that obstruct another guest's view of the playing/performance surface
Outside food or drinks
Pepper spray/Mace
Poles or sticks
Signs, flags, banners larger 11″X17″ or affixed to any pole
Skateboards/roller blades
Tripods, mono pods, or selfie sticks
Weapons of any type, including chains, knives, firearms, and spiked jewelry
Any other item deemed unacceptable by event/building management
If an item is revealed during a search, guests may dispose of the item or return the item to a safe storage location away from the Fieldhouse.
Used to getting to the Fieldhouse via I-65 and I-70? Pull up your favorite mapping app because these routes are currently closed to all traffic between the North Split and Washington Street. Other specific construction areas impacting our area that may impact your trip can be found here. For a full view of construction around downtown, check out INDOT's site here.
Once you've navigated the construction zones getting to the Fieldhouse, parking options include the Virginia Avenue Parking Garage or you may book parking via ParkWhiz.
Guests may enter the Fieldhouse via the Viriginia Ave. Parking Garage Bridge (now open!) or the Plaza doors from Pennsylvania & Delaware Streets.
As a reminder, lane closures continue on both Pennsylvania and Delaware Streets directly adjacent to Gainbridge Fieldhouse and with Bankers Life Court now closed, the ADA dropoff is on Pennsylvania Street at the plaza.